Thanks for joining me!
This Website is mainly focused on Single mothers &  house wives and for that matter even Men who  struggle to travel to and fro  by spending almost 4 hours a day for work to earn a living and at the same time they have the responsibility of taking care of their children!
If you are one of them, I have some good news for you!
I can understand your struggles as I have been there in that position! I worked in Corporate world for almost 36 years and just got retired as a General Manager (Sales)!
It has always been in my mind how can I help women in our society who have the responsibilites of raising their children and financial burden of meeting the two ends.
I started searching through all search Engines and that's how I came across SFI.com. You can sign it free here: www.sfi4.com/18754504/
Why SFI only?
There are Hundreds of Work From Home Biz available, the following are the plus points why I recommend you to Join SFI :
Please click below link which is straight away from SFI:
Once you sign up you will get a SFI ID by which you have to log in daily and complete 30 days training,  there are 14 Core Lessons & 45 sub lessons – total 59 lessons.
The Support Team of SFI is No.1 among Network marketing  business available in the world!  You just follow them and go through all the 15 tabs which which will be red in the beginning, but as you study one by one and follow the steps, all the red tabs will become green!
If you want to really make your business grow & get some profits go deep:
To sell TripleClicks products –  
1. Go to TripleClicks Tab in the Home page (www.tripleclicks.com/index.php). Find products that you want to sell.
2. Use the product's link that includes your SFI ID number (xxxxxxxx) so you will be credited with the commission. (To get an product's link, click the "SFI Toolbox" button from the product's Details Page.)
3. Use this link in your emails, social media posts, etc.—or use the product's banner on your blog, personal website, or third-party websites.
4. Each time someone clicks your link (or banner) and buys the product, you earn a handsome 45% CV commission.
Details marketing methods and aids is under the Marketing Tab in the Home page (www.sfimg.com/Resources/MarketingCenter?form=MarketingMethods).
You can play games & win prizes /versa points.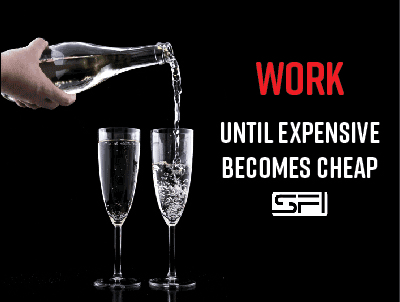 Don't get tired of working until it is done!
It has been observed that most of the people get tired of working too fast, but this will take you now where!
Ever since I started this journey, I have come across many postings in different Forums, people complaining that their Personally Sponsored Affiliates (PSA) don't work, but no matter one person or the other don't follow you, but you move on with your daily strategy until your work is done!
All the best for the day!
Good company in a journey makes the way seem shorter. — Izaak Walton